To Prepare the Meat Sauce:
Prepare the meat sauce for the moussaka first. Use a large sauté pan and heat the 2 tablespoons of olive oil. Once the oil is hot, add the garlic and the white onion. Once the onion and garlic are translucent, add the ground lamb and sprinkle with the oregano, cinnamon, salt, and pepper. Once the lamb is fully cooked, add the tomatoes, the tomato puree, and the white wine. Let the mixture cook down for about 15-20 minutes and then set aside.
To Prepare the Eggplant:
Place the parchment paper across a few cookie sheets and place the sliced eggplant on top of the parchment paper. Sprinkle them with salt and then turn them over and sprinkle the other side with salt. Let them sit for about 30 minutes. Heat the oven to 450 degrees F so that when the eggplant is done "sweating", the oven will be pre-heated. After the eggplant has "sweated", rinse the eggplant with water and place the eggplant back on the parchment paper on the cookie sheets. Place paper towels on top of the eggplant. Use a cookie sheet to press on the eggplant to squeeze the liquids out of the eggplant. Press them on both sides. Remove the eggplant from the cookie sheets, throw out the parchment paper, and replace it with new parchment paper. Layer the eggplant on the parchment covered cookie sheets, and place in the oven for about 15 to 20 minutes; the eggplant slices should be lightly browned and soft. Once the eggplant slices have become lightly browned, remove them from the oven and let them cool. Lower the oven to 350 degrees F.
To Prepare the Béchamel Sauce:
Heat the milk in a saucepan. Be careful not to burn the milk, but it should be hot. In a separate sauce pan, melt the butter, and then add the flour. Whisk it until the flour is fully mixed in. Slowly add the hot milk to the butter and flour and whisk constantly until the Béchamel sauce thickens. Season it with the nutmeg, white pepper, and salt.
To Assemble the Moussaka:
In a greased 9 by 13-inch baking dish, arrange the eggplant slices. Cover the eggplant slices with the meat sauce and cheese, and then repeat with the eggplant slices, meat sauce, and cheese.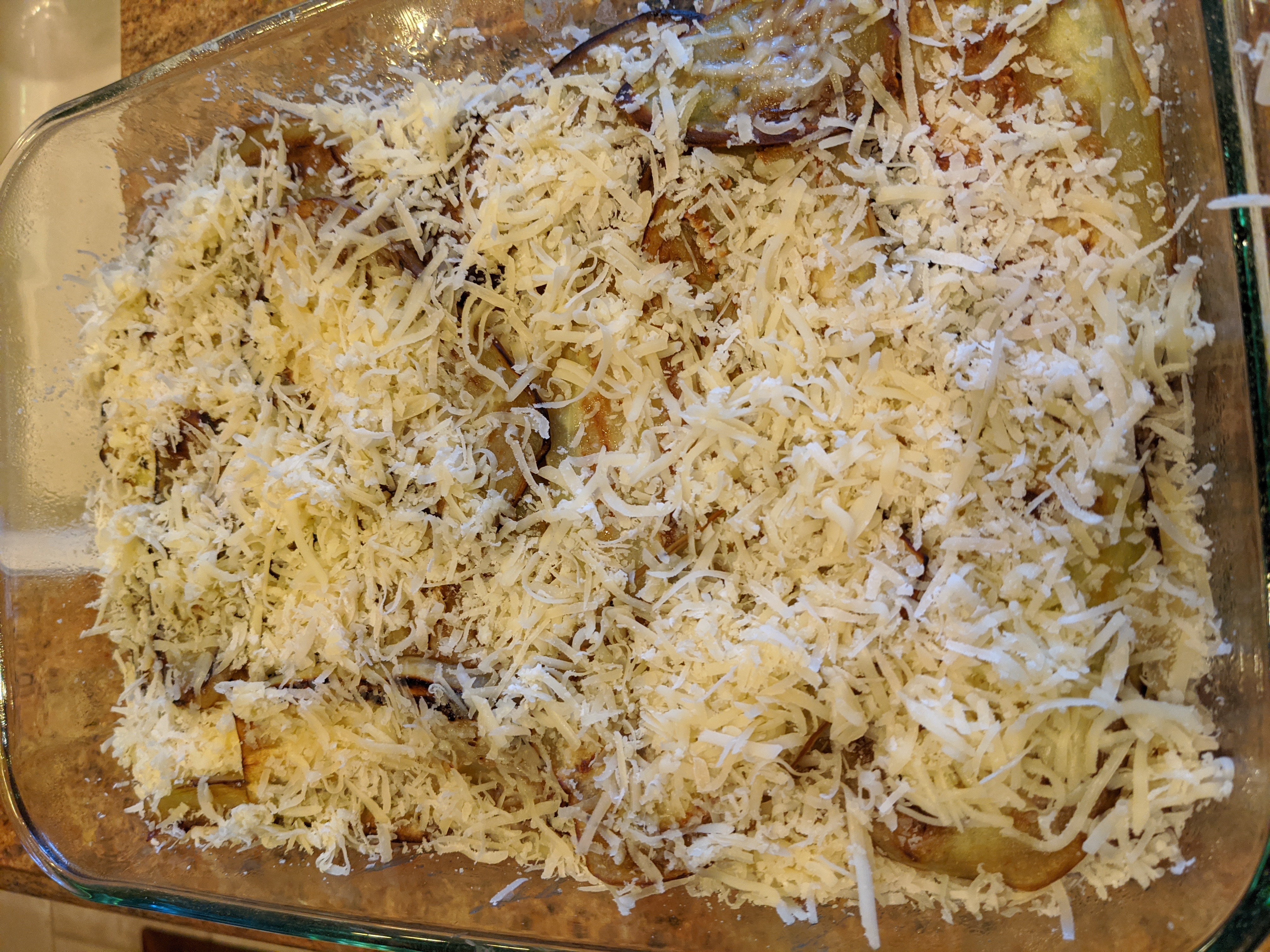 Top the moussaka with the Béchamel and add a final layer of cheese on the top of the moussaka.
Bake for 1 hour at 350 degrees F. Remove the moussaka from the oven and let it cool for about 15 minutes before serving it to allow the moussaka to settle.
Serving Suggestion:
We enjoy this moussaka with the Greek salad and Tzatziki Salad Dressing, which you can access by clicking here.